10/12/2010 11:40:00 AM
by

Lauren A
·
What is the purpose of Peyote?
Peyote
presents a creed or path of inspiration to be followed. "The Peyote Road", a transformation, form of respect, and trip for those seeking personal dignity and who respect nature and other people. These individuals are led by the "road men", often observing their transcendental state while they confront their own demons. These humble adversaries speak with nature-the air, sky, sunshine, rain, and trees-all God's creations. In a sense, they have direct contact with God through nature, whereas white people speak to God, not directly, but usually through an intermediary, who then translate their message while they pray themselves.
Are there physiological and psychological effects of Peyote?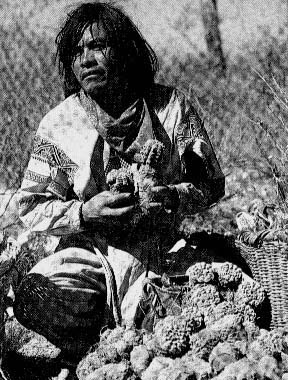 Although the medical conditions associated with taking too much peyote are not spoken about by Michael Kiyaani, he does describe the effects it had on him when he came back from war. His mind wasn't in the right place. He had no clarity. By taking the peyote, he first experienced his entire world coming to an end. Even so, he continued to take it. This was the vision he was supposed to see through his journey. By morning, everything was beautiful. So in a sense, peyote presented his entire life to him, all aspects of the bad, and made him see the bigger picture in the morning. "There was a lot of sagebrush out there, and everything was too beautiful". Peyote was never pleasant to look at, but after the entire process, "I looked for that peyote, and now I saw it was real pure, real white".
Patients taking Peyote, as described by Kiyanni, will talk to their mind. They will see things, mostly bad, but they seem to have a sense of knowing. In some cases they will be bothered by witchcraft or the lightning in the sky. Their blood will fill with the Peyote, however the drug, like nature, can be spoken to. Just as we are made mostly of, and in water, we feel most at home. We feel level with nature.
Therefore, psychologically, there's no way of knowing the effects conclusively, because every person will be confronted with a different obstacle while using it. Physiologically, there can be vomiting, dizziness, blood pressure may be elevated, but this is completely normal. To the non-Native American medical community, this is a drug requiring control; however that's in lieu of the fact non-Native Americans shouldn't be taking it in the first place.
Kiyanni says is perfectly,
"This natural herb peyote is used by Native Americans with more sincerity. Indian people are more serious in their mind, in their heart, in the way they worship. Just let the Indians have it, let the Indians use it the way they want it, just natural. Our identity is there."
Picture sources
Welcome to Friends Revolution