Ed Gein was born in 1906 in a town with a population of around 632. While growing up on the farm in La Crosse County, Wisconsin, his father George was often drunk and distant, while his mother Augusta was an overbearing, religious zealot. She preached that all women, not just prostitutes, were bad and she would often read from the Bible, choosing scenes that involved bloody murders and divine retribution.

Throughout Ed Geins life he was both verbally abused by his mother, as well as his classmates. Although, even as a troubled child, he still remained an excellent student excelling in reading, yet still detached from those around him except his mother.


As an early adult, he still remained disconnected. While his brother Henry was rejecting his mother's warped view of the world as well as Ed's attachment to her, Ed was planning a scheme to have his mother all to himself.

While fighting a brush fire in 1944, Henry and Ed were separated and Ed proceeded to murder Henry with a shovel with a swift blow to the head. While Henry's death was being investigated, Ed led police directly to the body. The police quickly dismissed the death as an accident.

At this point, Ed had his mother all to himself. However, within a year she died of a heart attack and Ed was left alone in the farmhouse to take care of himself. It was said that Gein had desecrated her body after she passed.

His oddly displaced personality led him to dig up corpses of women from the nearby cemeteries, collecting vulva's and keeping them tucked away in a box in his home. He would often practice necrophilia with all of the bodies, however Gein ultimately grew bored and decided to claim his first living v ictim.
In 1954, Ed Gein murdered Mary Hogan, a 200 lb bartender who's skin was stored in paper bags for a woman's suit Gein was fashioning. Three years later, Gein murdered Bernice Worden, a 58 year old grandmother.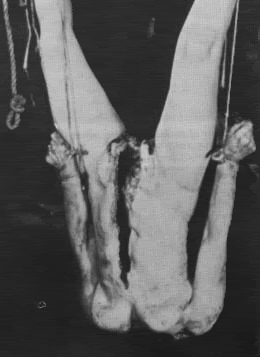 This time, suspicion fell on Gein. Police were tipped by a source that had seen or heard stories about the human masks and shriveled bodies. When the authorities finally entered the farmhouse, they found Worden's body hung upside down.
"Mary had been decapitated, her headless body hung upside down by means of ropes at her wrists and a crossbar at her ankles. The torso was empty, the ribcage split and the body "dressed out" like that of a deer. These mutilations had been performed postmortem; she had been shot at close-range with a .22-caliber rifle."
They also found chairs upholstered with human skin, skulls being used for soup bowls, faces hung on the walls like trophies from hunting season, and the refrigerator was filled with body parts preserved to eat. Additionally, there was a woman's suit made entirely out of human skin that Gein would wear around the house and pretend he was is mother.

Close to 13 women were identified in the farmhouse that day, and when asked why he did what he did, he believed that he had to experience the fruits of his labor. He had to convince himself that he had actually killed those women, so living in a sort of hunting lodge setting with his trophy kills on the wall and in boxes was a reminder of what he was capable of.
While in custody, Geins famed farmhouse burned to the ground and his 1949 Ford Sedan, which was used to transport the bodies, was being auctioned for $760.00 to carnival sideshow operator Bunny Gibbons.

Gein spent 13 years in Mendota Mental Health Institute in Madison, Wisconsin. He died in 1984 from respiratory and heart failure.

Over the years, Geins grave has been vandalized, with the bulk of his stone being chipped away by visitors and cult followers. It was later discovered "in June 2001 near Seattle and is displayed at present in a museum in Waushara County, Wisconsin."



Part Two
Part Three
Part Four
Part Five
Part Six

Even now, Hollywood continues to immortalize Gein. His character was in part the inspiration for Norman Bates "Psycho", "American Psycho", and then once again in "The Silence of Lambs".
Being an enormous fan of the Hannibal series, it's quite evident in the movie that there is no documented evidence that states that homosexuality or trans-gender confusion is what causes serial psychopaths. Furthermore, what's interesting about Gein was that he lacked emotional intelligence and I think he admired women, for lack of the better sense. He chose to shed his victims skin since he couldn't shed his own, and even then, it was still never enough.

Also Check out :

Picture Sources
Welcome to Friends Revolution