6/02/2009 12:04:00 PM
by

Lauren A
·
I wanted to give a gracious shout out and a thanks to all of my top droppers for the month of May.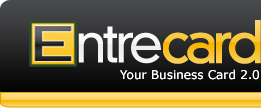 I wanted to remind everyone on Entrecard that the reason my drops have declined on this site is because I am actually reading and getting caught up with everyone.

I think it's more personal relationships that page views. Seeing as that is not my main purpose here, I would rather enjoy your site instead of dropping and leaving.


Welcome to Friends Revolution